A Word from Your Prevention Coordinator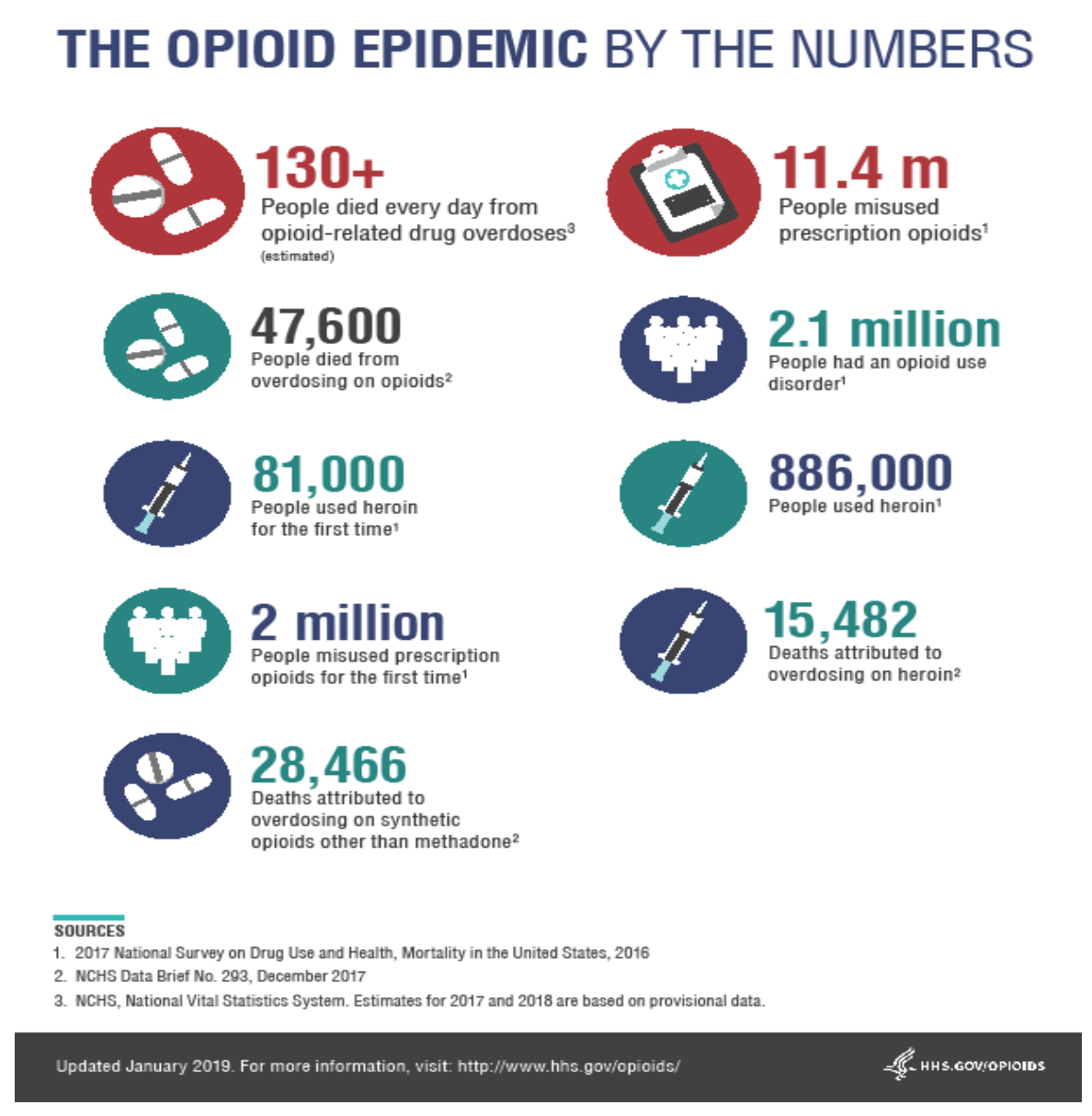 According to the Centers for Disease Control and Prevention (CDC), an estimated 130 Americans die from an opioid related overdose every day.2 Opioids, a class of drugs that act on nerve cells in the brain and nervous system to relax the body and relieve pain, are often described as licit (e.g. prescription pain relievers such as oxycodone, hydrocodone and morphine), illicit (e.g. heroin) and synthetic (e.g. man-made drugs such methadone, fentanyl, tramadol). Synthetic opioids are manufactured using man-made chemicals rather than natural ingredients, resulting most times in higher potency. A drug that is considered highly potent requires only a small amount to give the desired effect.
While prescription opioids are widely used to manage pain, they are often times misused and diverted for illicit purposes. According to SAMHSA's 2016 National Survey on Drug Use and Health, more than half of prescription opioid users got their last prescription opioid from a friend or relative, with 40.4% reporting that they did not pay for the pills they received. 1    
Eighty percent of all intoxication deaths that occurred in Maryland in 2017 were opioid-related. Opioid-related deaths included deaths related to prescription opioids, heroin, and non-pharmaceutical fentanyl.4 Montgomery County is not immune to the effects of opioid misuse and opioid use disorder on the individual, their families and the larger community. In fact, Montgomery County had fifty-seven (57) opioid related intoxication deaths in 2018 5, signaling that there is still a lot that needs to be done to curb the epidemic.
To assist in efforts to reduce and prevent opioid diversion and opioid misuse, overdose and overdose fatalities in Montgomery County, we encourage you to:
Properly discard of unused and unwanted prescription opioid medications at verified drug take back locations within the county. (link) Each location will accept unwanted and unused bagged, solid prescription opioid medications such as pills, capsules and patches.

Properly store prescription opioid medications in a safe and secure location when not in use. We strongly recommend storing prescription opioids in their original package and keep them locked in a safe container. Also, keep your medications out of children's reach and never share your medication.

Follow our social media campaign, Know the Risks MoCo, for current statistics and information on opioid misuse prevention.
Resources: