Fentanyl…the dangerous drug contributing to the opioid epidemic
Fentanyl, also known by the street names "china girl or china white", is a powerful synthetic opioid that is 50-100 times more potent than morphine and 30-50 times more potent than heroin. Fentanyl in its purest form is a grainy white powder, with crystals similar to table salt. However, when prescribed by a physician, fentanyl can be administered as an injection, nasal spray, patch or lozenge to treat severe pain, typically advanced cancer pain or the management of pain post-surgery.
Due to its high potency, fentanyl is being diverted from approved medications or made in illegal laboratories for illicit purposes and is being mixed or "laced" with other drugs, such as poor quality heroin, cocaine and methamphetamine to increase their potency. Users are generally unaware that these street drugs may contain fatal doses of fentanyl, resulting in accidental overdoses or overdose deaths.
Mixing fentanyl with other illicit drugs is extremely dangerous because its purity and potency is often unknown, and many people who use fentanyl quickly become addicted to it. Similar to other commonly used opioids, effects of fentanyl include relaxation, euphoria, drowsiness, unconsciousness, difficulty in concentration and constipation; however, it also causes slow and depressed breathing which can result in death! In 2018, fentanyl was the leading cause of overdose deaths in Montgomery County.
Just one use of fentanyl can result in an accidental overdose. Symptoms of fentanyl overdose include: unresponsiveness, slow or shallow breathing, slow heartbeat, trouble walking or talking, feeling faint, dizziness or confusion and cold, clammy skin. Fentanyl overdoses should be treated immediately with Naloxone (Narcan); however, the high potency of non-medical fentanyl may require multiple doses of Naloxone being administered to revive the individual.
Fentanyl is an extremely addictive and dangerous drug! If you or some you know has a substance use or opioid use disorder and is ready to seek treatment, please visit SAMHSA's Behavioral Health Treatment Services Locator by clicking here
Sources:
1) U.S. Drug Enforcement Administration. (2017). Drugs of Abuse: A DEA Resource Guide.  Retrieved April 26, 2019 from the U.S. Drug Enforcement Administration website: https://www.dea.gov/sites/default/files/sites/getsmartaboutdrugs.com/files/publications/DoA_2017Ed_Updated_6.16.17.pdf#page=40
2) U.S. Department of Health and Human Services, National Institutes of Health. National Institute on Drug Abuse. (2019). What is fentanyl? Retrieved April 26, 2019 from the National Institute on Drug Abuse website: https://www.drugabuse.gov/publications/drugfacts/fentanyl
Effects of the Opioid Epidemic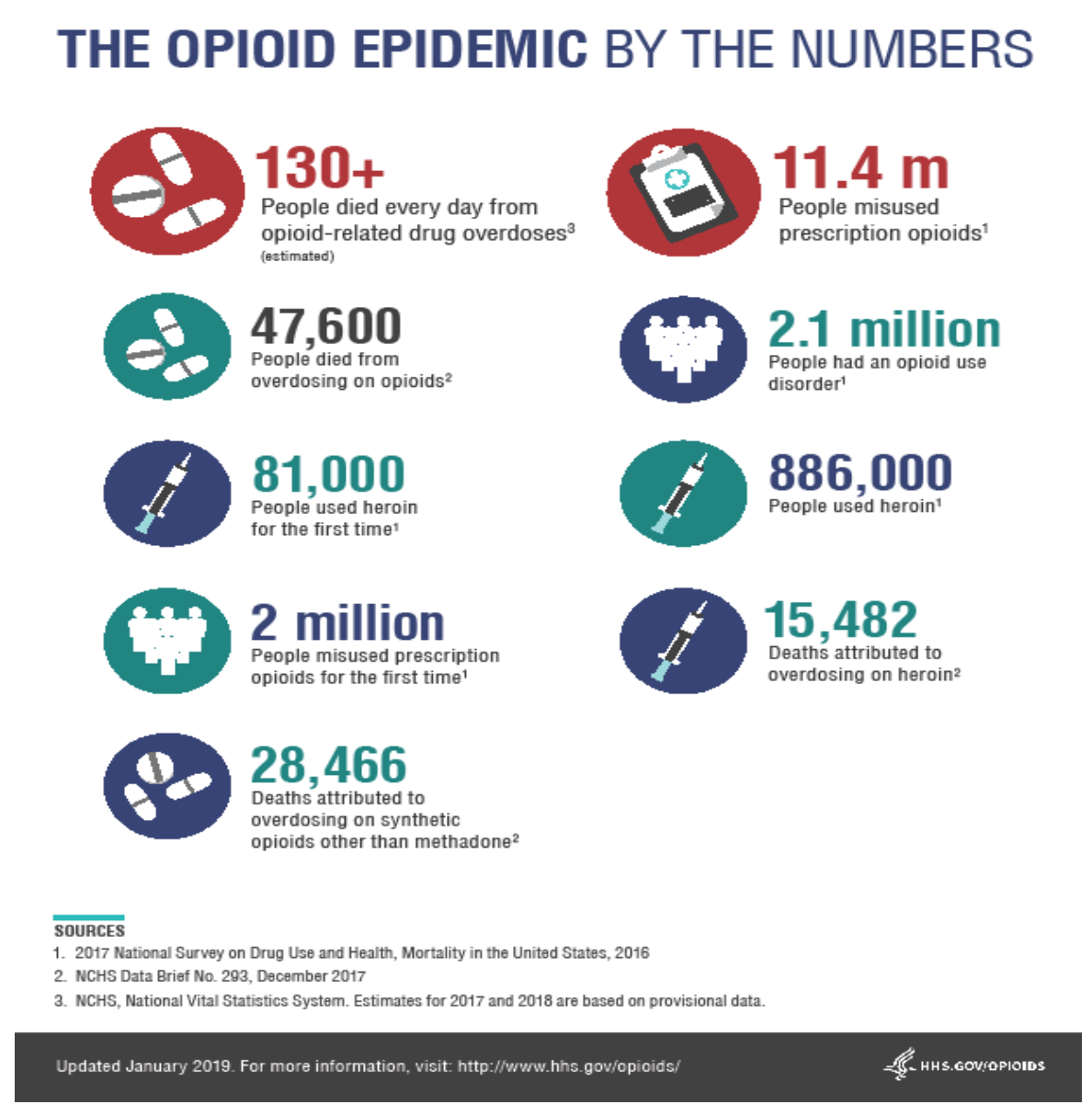 According to the Centers for Disease Control and Prevention (CDC), an estimated 130 Americans die from an opioid related overdose every day.2 Opioids, a class of drugs that act on nerve cells in the brain and nervous system to relax the body and relieve pain, are often described as licit (e.g. prescription pain relievers such as oxycodone, hydrocodone and morphine), illicit (e.g. heroin) and synthetic (e.g. man-made drugs such methadone, fentanyl, tramadol). Synthetic opioids are manufactured using man-made chemicals rather than natural ingredients, resulting most times in higher potency. A drug that is considered highly potent requires only a small amount to give the desired effect.
While prescription opioids are widely used to manage pain, they are often times misused and diverted for illicit purposes. According to SAMHSA's 2016 National Survey on Drug Use and Health, more than half of prescription opioid users got their last prescription opioid from a friend or relative, with 40.4% reporting that they did not pay for the pills they received. 1    
Eighty percent of all intoxication deaths that occurred in Maryland in 2017 were opioid-related. Opioid-related deaths included deaths related to prescription opioids, heroin, and non-pharmaceutical fentanyl.4 Montgomery County is not immune to the effects of opioid misuse and opioid use disorder on the individual, their families and the larger community. In fact, Montgomery County had fifty-seven (57) opioid related intoxication deaths in 2018 5, signaling that there is still a lot that needs to be done to curb the epidemic.
To assist in efforts to reduce and prevent opioid diversion and opioid misuse, overdose and overdose fatalities in Montgomery County, we encourage you to:
Properly discard of unused and unwanted prescription opioid medications at verified drug take back locations within the county. (link) Each location will accept unwanted and unused bagged, solid prescription opioid medications such as pills, capsules and patches.

Properly store prescription opioid medications in a safe and secure location when not in use. We strongly recommend storing prescription opioids in their original package and keep them locked in a safe container. Also, keep your medications out of children's reach and never share your medication.

Follow our social media campaign, Know the Risks MoCo, for current statistics and information on opioid misuse prevention.
Resources: